Hyperespace
rue de la paix 7, 1020 Renens
Updated 2 years ago
Situé dans l'ancienne fabrique d'articles de métal de Renens, Hyperespace permet d'accueillir tous types de créatifs entrepreneurs, qu'ils soient indépendants ou en collectifs. L'espace peut recevoir jusqu'à 18 locataires. Il comprend un espace polyvalent et diverses facilités. L'ameublement et le décor ont été pensés pour permettre aux différents créatifs de recevoir des invités, partenaires et clients.
Want to visit this coworking space ?
Contact
Other coworking spaces in Renens

Chemin du Closel 5, 1020 Renens

Chemin du Closel 5, 1020 Renens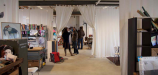 Chemin du Chêne 15, 1020 Renens
Our latest articles about coworking
Places around Hyperespace
In case you were wondering if you will find your favorite meals 5 minutes away from your desk. We hand-picked a few places very close to the coworking where you can enjoy a tasty meal.
Aquadélices S. à r. l.
Rue du Caudray 36, 1020 Renens Vd, +41 21 636 16 61
Boulangerie Ramon Perez
Rue du Village 7, 1020 Renens Vd, +41 21 634 06 06
Boulangerie-Tea-Room Verliz
Chemin de la Roche 1, 1020 Renens Vd, +41 21 634 27 48
Buona Pasta, D. Berguglia
Rue du Lac 26 B, 1020 Renens Vd, +41 21 635 30 10
Café du Léman Milan et Malina Cejovic
Rue du Léman 2, 1020 Renens Vd, +41 21 635 92 55
Café il Bacio
Chemin du Chêne 7 d, 1020 Renens Vd, +41 21 634 87 87
Café le Paris
rue Neuve 6, 1020 Renens Vd, +41 21 634 01 37